What a year it has been!
The 2022 NYSF Year 12 Program officially starts in less than a month - a wonderful culmination and celebration of the work of the NYSF Corporate Team, Rotary Volunteers, Student Staff Leaders, and the NYSF Board. We have been heartened this year by the support and enthusiasm of our partners, supporting organisations, and individuals who have given their time to plan our fantastic hybrid STEM program across Australia.
We have over 620 students joining us across the country for over two weeks of STEM visits, workshops, specialist lectures, career discussions, and social activities. The NYSF is greater than the sum of its parts, and the connections that students make between each other and with STEM professionals across a whole range of fields stay with them beyond the program.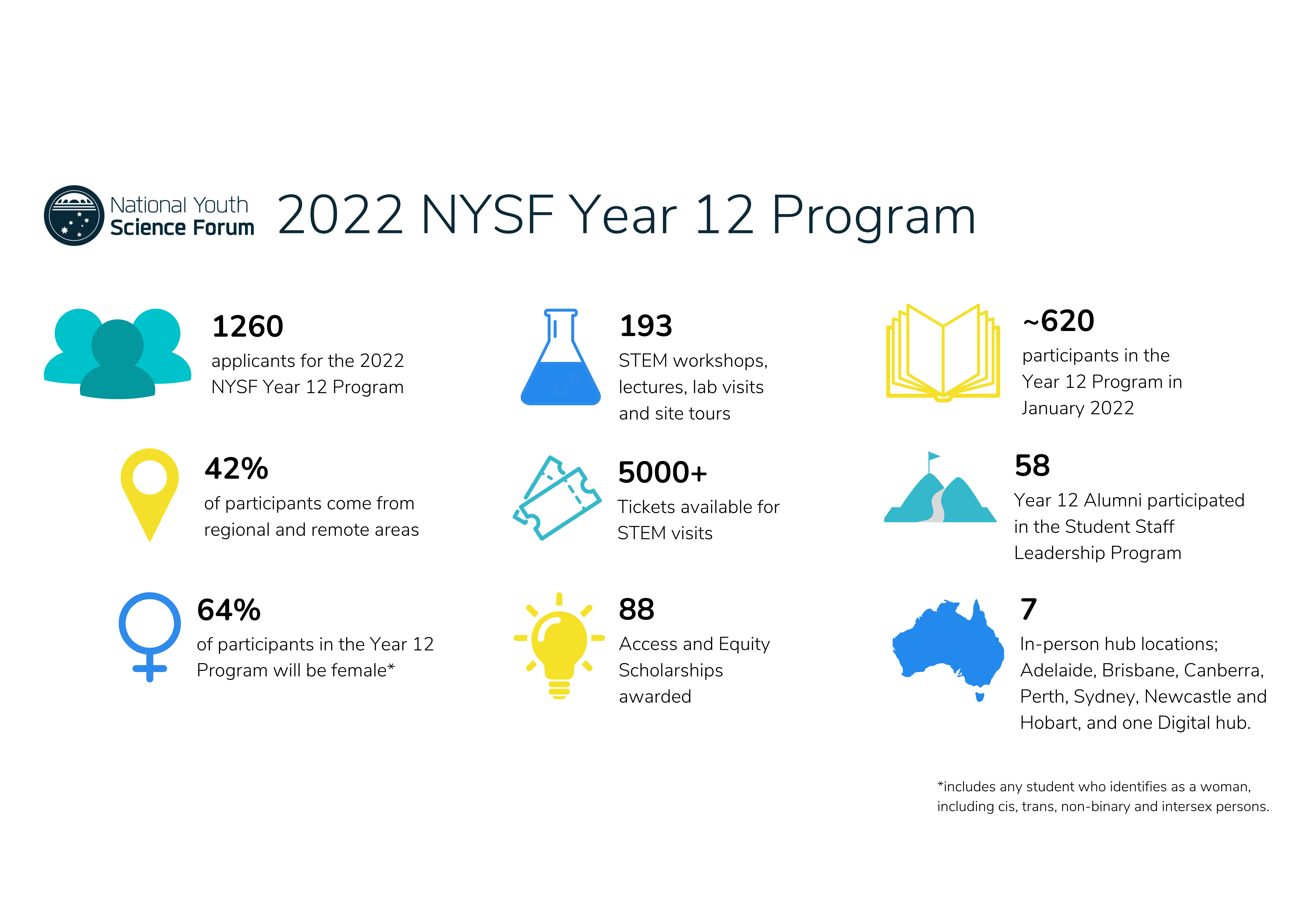 This year we welcomed two alumni into the NYSF Corporate Team, both who bring a wealth of experience in STEM roles inside and outside academia, and who are keen to make an impact in science education and outreach. We also welcomed more team members into the fold who are invaluable in their roles bringing new STEM experiences and partnerships so that the NYSF can thrive for many, many years to come.
We've always been proud to welcome students from all over Australia to the program, and this year is no different, with 42% of participants from regional and remote areas. We are also happy to see that 64% of participants are young women. Through the support of the Department of Industry, Innovation and Science, the Office of the NSW Chief Scientist & Engineer, and private donors, we were able to award 88 scholarships to students who may otherwise be unable to attend.
Our Programs team has been booking STEM visits at our in-person and digital hubs with a feverish zeal which has resulted in over 190 opportunities for students to try something new. Pandemic logistics have meant limits on some activities however the excellent digital program and peer networking opportunities mean that students can participate widely.
Our NYSF Connect alumni program flourished in 2021 with the continuation of the webinar series. There we explored diverse space careers; community involvement in infectious disease trials; the role of leadership; First Nation science; mental health in science; and creative ways of thinking outside the STEM box.
A highlight was our National Science Week webinar with Australia's Chief Scientist, Dr Cathy Foley AO PSM, David Ball, Regional Director Australia New Zealand for Lockheed Martin Space, and Dr Sam Moyle, STEM teacher at Brighton Secondary School and the 2019 recipient of the Prime Minister's Prize for Excellence in Science Teaching who discussed the twists and turns of a STEM career.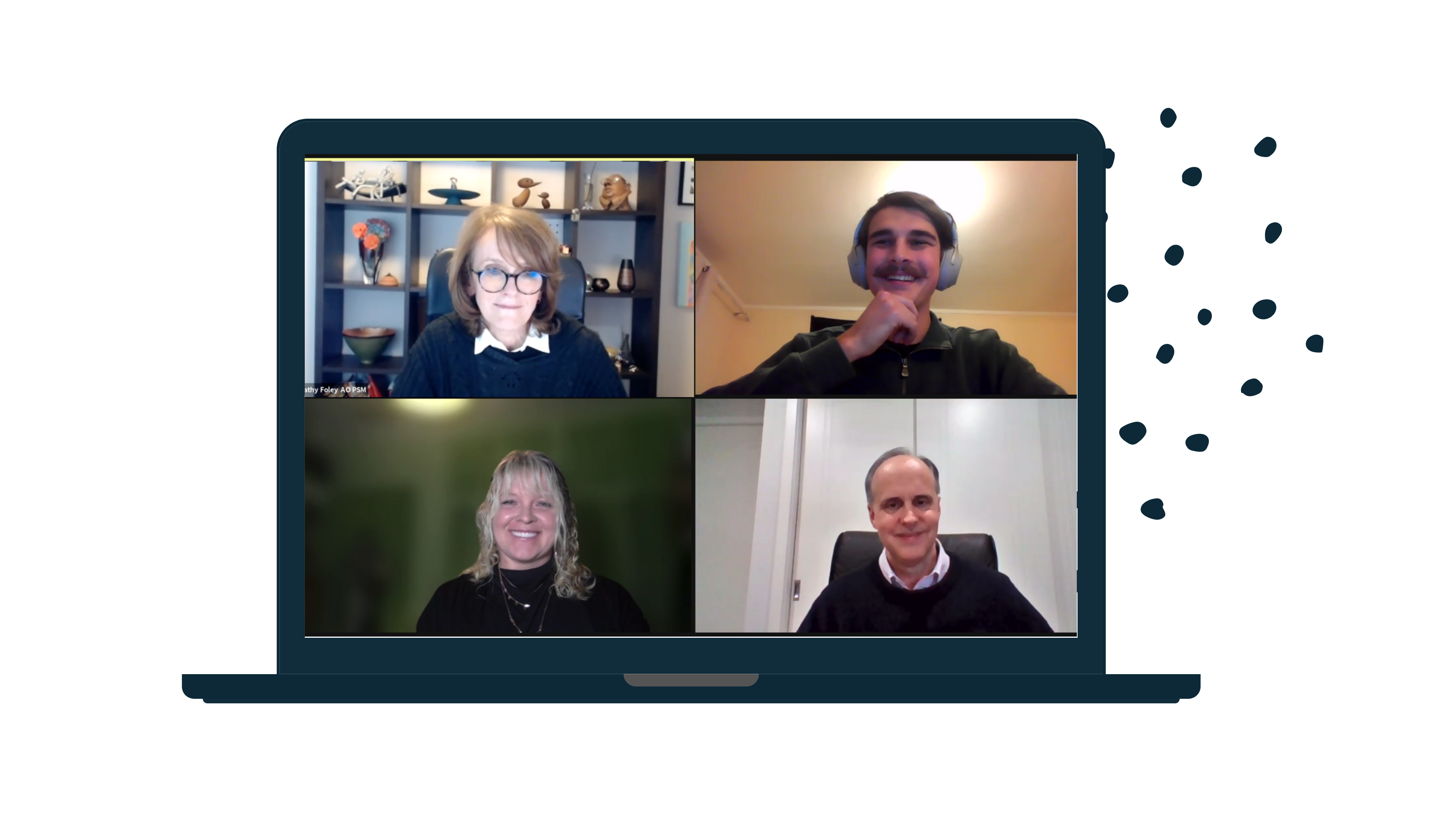 We would like to thank all those STEM professionals and partners who contributed to the discussions, as well as to our alumni student hosts.
We are always after more stories about our alumni and we would love to hear what you are doing now and publish it on our website to inspire others. Please contact us to tell us about your STEM Story.
Call to action: We are looking for STEM professionals to join our Speed Meet sessions in January. You are welcome to participate and pass on your advice to our students!

We couldn't do what we do best without our Major, Corporate and Industry, and University Partners. We thank those partners who are supporting us going forward – keep an eye out for more announcements coming soon.
Thank you to our Rotary volunteers, who have given their all to ensure that students around Australia have had the opportunity to apply to the program no matter their circumstance. Rotary has been incredibly resilient and flexible in its approach to meeting all the challenges a dispersed and online selection and orientation program has necessitated, and we are grateful.
I also want to show my appreciation to our Student Staff Leaders who have so brilliantly responded to changes in the program and who we have watched develop into leaders who provide a strong support base for each other and for the incoming students. I cannot wait to see what they pull out of the 'staffie hat' this year.
In 2022 our much-loved tradition of Governor's Receptions moved (mostly) online. We received heart-warming, inspiring, and enthusiastic messages of support for our students over a tough year. They were a joy to watch and we are sure our participants – as Australia's future STEM leaders – are just as proud of themselves as we are of them.
To our incoming students, the words of His Excellency General, The Honourable David Hurley AC DSC (Retd) ring true:
"No matter your field of endeavour, the skills you derive from STEM subjects will benefit you. You don't know where your life will take you, what jobs you will do, or the paths you will take. Whatever you do, though, STEM will unlock doors and create opportunity."
Thanks to the Board, the NYSF Staff, and to everyone who has interacted with the NYSF this year. We're enthusiastic to jump straight back into delivering transformative, youth-led STEM experiences!
Sincerely,
Dr Melanie Bagg
CEO, National Youth Science Forum