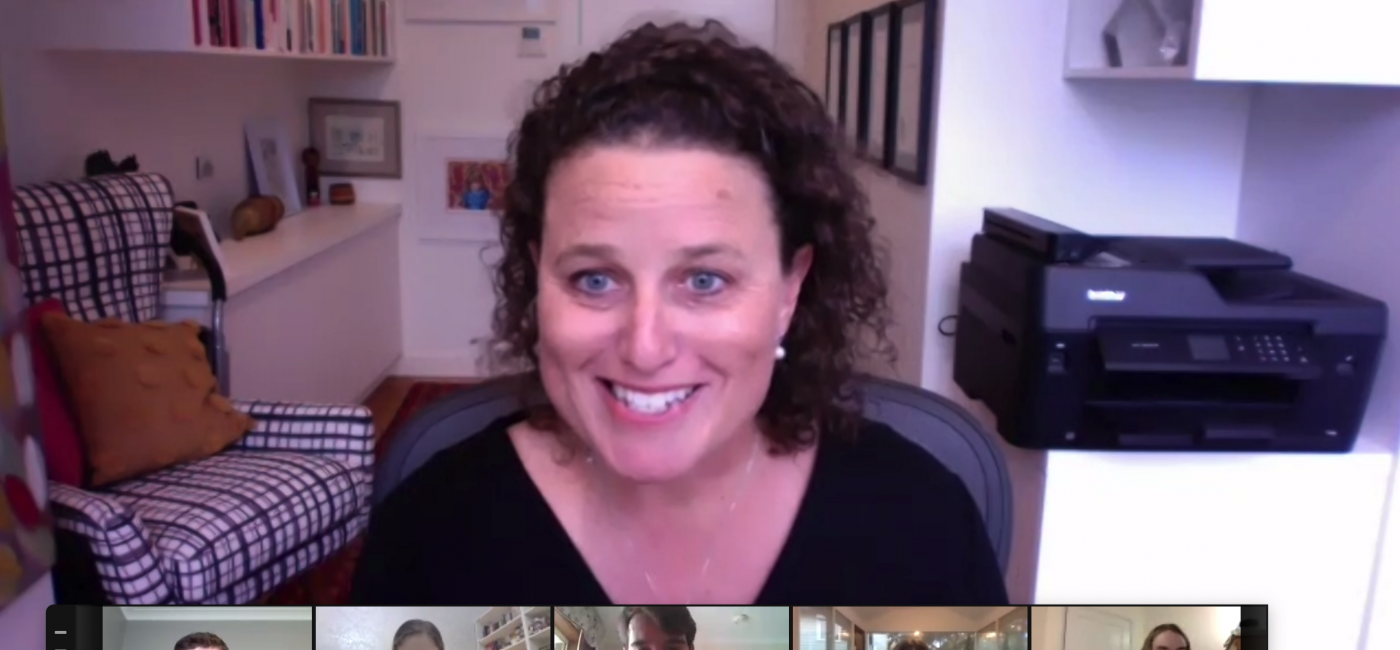 "As a leader, it's really important, even at the beginning, to be self-aware of the impact you are having on others."
Like many NYSF programs in 2020, our Student Staff Leadership Program (SSLP) has gone online to ensure the safety of all Student Staff during the COVID-19 pandemic.
SSLP is a leadership and training program designed to prepare previous NYSF Year 12 Program participants to return to the program as Student Staff Leaders. Normally an in-person program, this year our 69 Student Staff Leaders, including three Chiefs of Staff, are undergoing online leadership training to prepare them for January. Over 8 weeks, Student Staff are learning about different leadership styles and techniques and will complete specific modules on health, risk, and safety concerning the NYSF program. We intend to team up this online theory component with an extended pre-session period for these Student Staff in January, we acknowledge how important it is for these leaders to bond with each other face-to-face.
The program kicked off with an introduction to leadership with leadership consultant, Kendal Hann, and a very informative Q & A with Leadership Coach and Deputy Chair of the ABC, Dr. Kirstin Ferguson. These activities were complemented with a panel discussion involving four highly accomplished leaders from different backgrounds. The panel featured:
NYSF Deputy Chair, Dr. Geoff Garrett AO, a former Queensland Chief Scientist for six years and before this was Chief Executive of two of the world's major national science agencies, the CSIRO in Australia (2001 to 2008) and CSIR in South Africa (1995 to 2000);
Georgeina Whelan, the ACT Emergency Services Commissioner, formerly from the Australian Defence Force (ADF) as a brigadier with a remarkable career in which she specialised in military disaster response and Defence health, deploying to such war-torn or disaster-stricken places as East Timor and Banda Aceh;
Science Communication Leader our own Dr. Melanie Bagg, who before her appointment as CEO of the NYSF was Head of Communications at the Australian Academy of Science; and
Prof Aidan Byrne, Provost at The University of Queensland, a critical contributor to the management of the university. Prior to this appointment, Professor Byrne was the Chief Executive Officer (CEO) of the Australian Research Council (2012-2016) and before that, he was Dean of Science and Director of the Australian National University (ANU) College of Physical and Mathematical Sciences (2008-2012). He was also Head of the ANU Department of Physics (2003-2007).
The students heard about being an adaptable leader from Dr. Ferguson, who has been very vocal during the COVID pandemic about managing through a crisis, and also about leading in the real-world from our four panellists, who encouraged our student staff to be authentic and honest in their approach.
In her presentation, Dr. Kristin Ferguson reflected on how she added skills to her leadership toolkit from different situations.
"As a leader, it's really important, even at the beginning, to be self-aware of the impact you are having on others. Going inside yourself and reflecting if it went well or not. You learn to be really respectful of who you lead; it's not about yelling and screaming at people."
During the panel discussion, Georgeina Whelan was asked some hard-hitting questions by our participants. In response to a question about managing and leadership, she said: "Sometimes the people in your team are looking to be managed, but other times they are seeking to be led."
Georgeina added that it was also important to get 'frank and fearless feedback' even when you're in high-level leadership positions.
"It's not easy (receiving criticism). You have to be very practised and considered about understanding your emotions and to a certain extent controlling them."
Prof Byrne offered advice on team building.
"Get to know your team, build up that rapport, and having that respect and trust. If you can do that with your team you can build an effective unit. if you don't manage that you will have trouble all the way."
Dr. Geoff Garrett added: "surround yourself with people that have a-difference perspective, whether that's a mentor or boss or team members."
"Get to know your team, get to know the skills that they have and how you can work together," Dr. Garrett said.
When asked what they will take away from the session, our newest leaders responded with:
"Dr. Ferguson talked about being a woman in a male-dominated industry. I will take inspiration from her being an outstanding leader despite this and the challenges she may have encountered as a female."
"Challenge myself. Say yes more! Be up for the challenge but understand my limitations. Be a kind and conscientious leader that promotes a positive environment for students to enjoy the NYSF for what it is, an amazing and unique experience."
Despite the different delivery formats, Student Staff have been enthusiastic and positive about their experience so far. The NYSF has also injected new learnings into the program to increase what participants will take away in terms of leadership skills and being prepared for January.
We thank all our extremely talented speakers who have contributed to the program. It is clear participants are gaining valuable skills from these sessions that will be useful both during and beyond the NYSF Year 12 program in January. We look forward to seeing them in action!