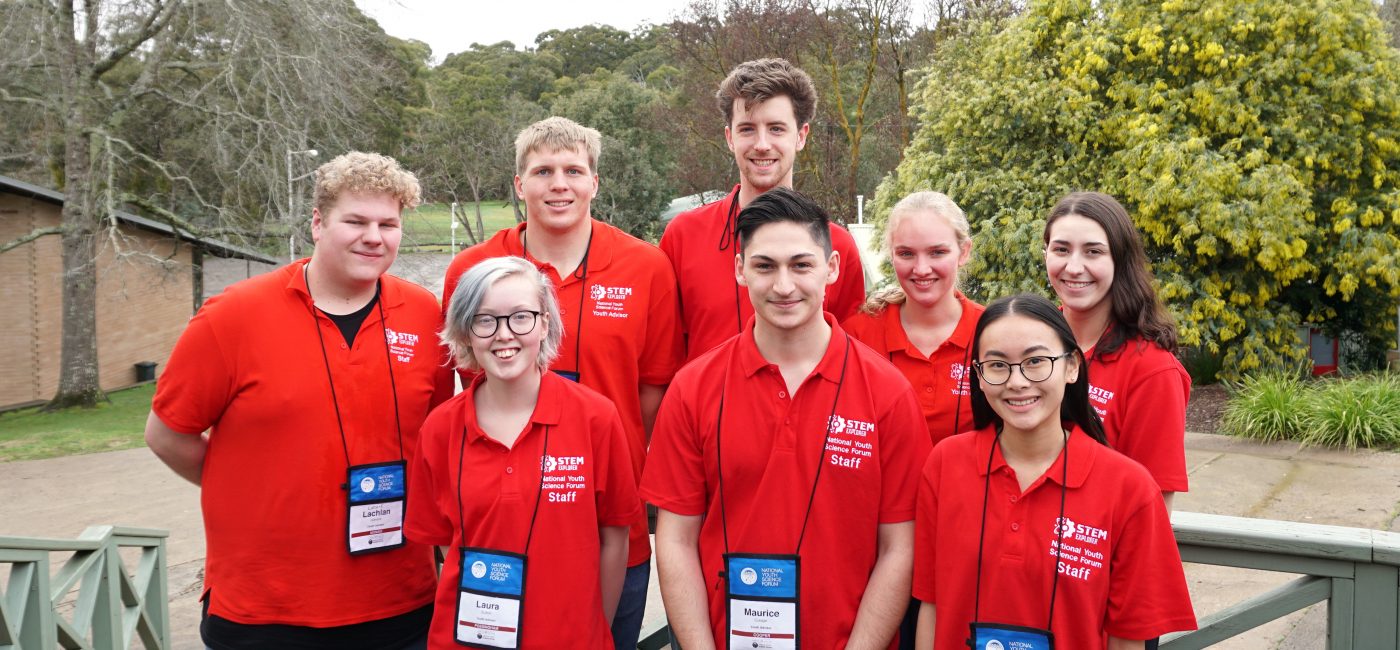 "I am so excited to be at STEM Explorer because I really enjoy working with and being able to help the next generation of scientists learn all about the awesome world of STEM!" Emma, Youth Advisor 2019 and 2015 NYSF alumna
A significant part of the magic of our NYSF programs, is the "by youth for youth" model that we use. Again this year, alumni from the NYSF Year 12 Program had the opportunity to apply and attend the STEM Explorer program in Adelaide in the role of Youth Advisor.
Not only is this an excellent opportunity for our alumni to practice and develop their leadership skills, it also offers another source of support and inspiration to our program participants. All of the NYSF Alumni have a passion and enthusiasm for STEM that they can share with the participants, and many of them are now on their own STEM journeys, typically studying at university. It's always a delight to have these young alumni returning to engage and give back, passing on their own passion to new generations of NYSF participants.
This year the team was led by Connor, who was also returning to the program for his third year in a row (he must love it!). We were very grateful to have Connor leading the team and thank him for his excellent leadership and hard work over the week, and to all the team for their contribution.
Read on to find out more about each of our eight Youth Advisors, and Connor as Youth Advisor Coordinator.
"Hi, I'm Connor and I'm a 2016 NYSFer! I'm currently in my last year of a Bachelor of Science in Climate and Weather, and this is my third time coming on STEM Explorer! I've loved the experience the last two years, so I was really keen to give the Youth Advisor Coordinator role a shot. So far, it's been wonderful engaging with the students, and seeing all the enthusiasm that they bring to the camp! It really confirms to me that STEM outreach and education is my passion and that I want to pursue it as a career!"
"Hi, my name is Carine, I'm a 2016 NYSFer, currently studying Medicine in Melbourne. I love being involved in STEM Explorer, getting young people excited about STEM, and exploring its real-world applications with them."
"Hi! I'm Callum and I attended the NYSF Year 12 program in 2016. I had an amazing time at the program and was inspired to study Engineering at the University of Queensland, majoring in Electrical and Computer Engineering. This is my third year volunteering at the exciting NYSF Stem Explorer program. It provides Year 7 & 8 students with "taste tests" of a huge variety of STEM disciplines to show the fantastic opportunities available in Science, Technology, Engineering & Math related fields."
"Hi, my name is Emma and I went to the NYSF in 2015. I am currently doing a postgraduate degree in law and I am so excited to be at STEM Explorer because I really enjoy working with and being able to help the next generation of scientists learn all about the awesome world of STEM!"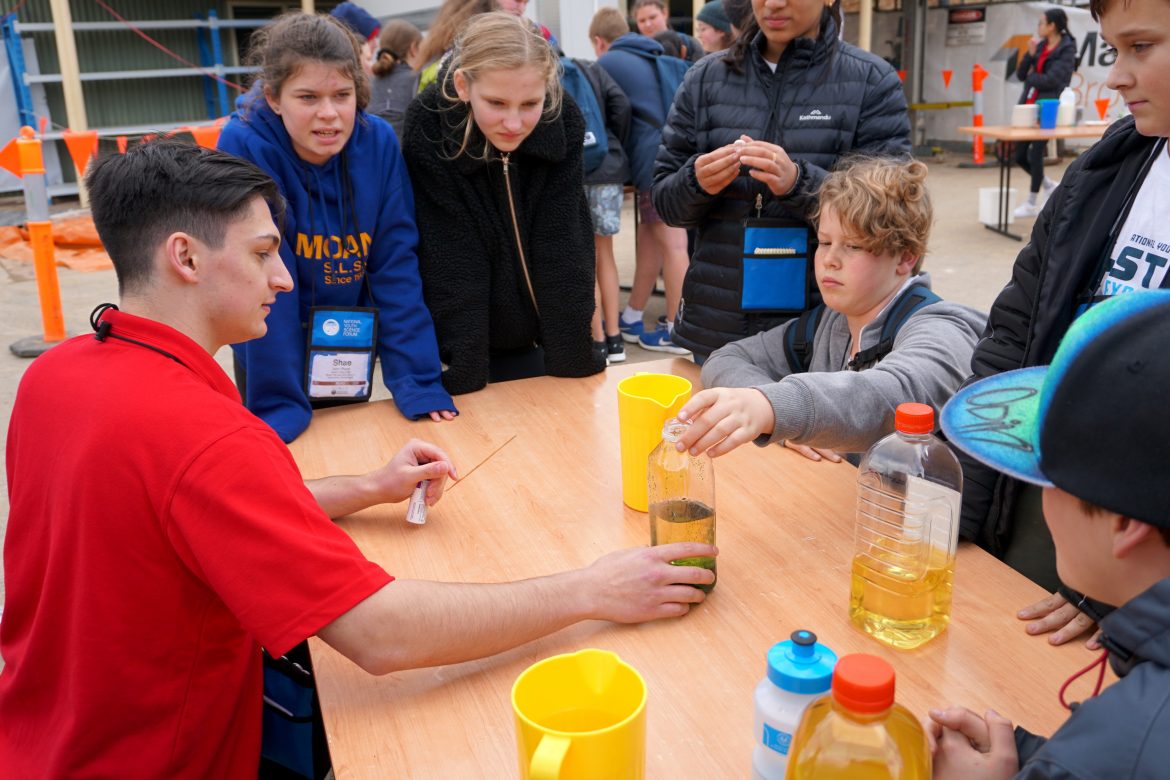 Maurice running a lava lamp experiment with the students
"Hi I'm Maurice! I went to the NYSF in 2016 and I'm about to finish my degree in robotics engineering. For me, the STEM Explorer program is an amazing way to share my passion for hands-on science and encourage students to be curious about the world."
"My name is Lizzy and I attended NYSF in 2018. Currently in my first year of uni studying a dual degree of Science/Law. The STEM Explorer program is such a great opportunity to engage with young students and encourage them to pursue their current passion or discover an area of STEM that they didn't know too much about. This program would be something that I would have really loved when I was in Year 7/8, so this is a great way to give back and get involved in inspiring the next generation!"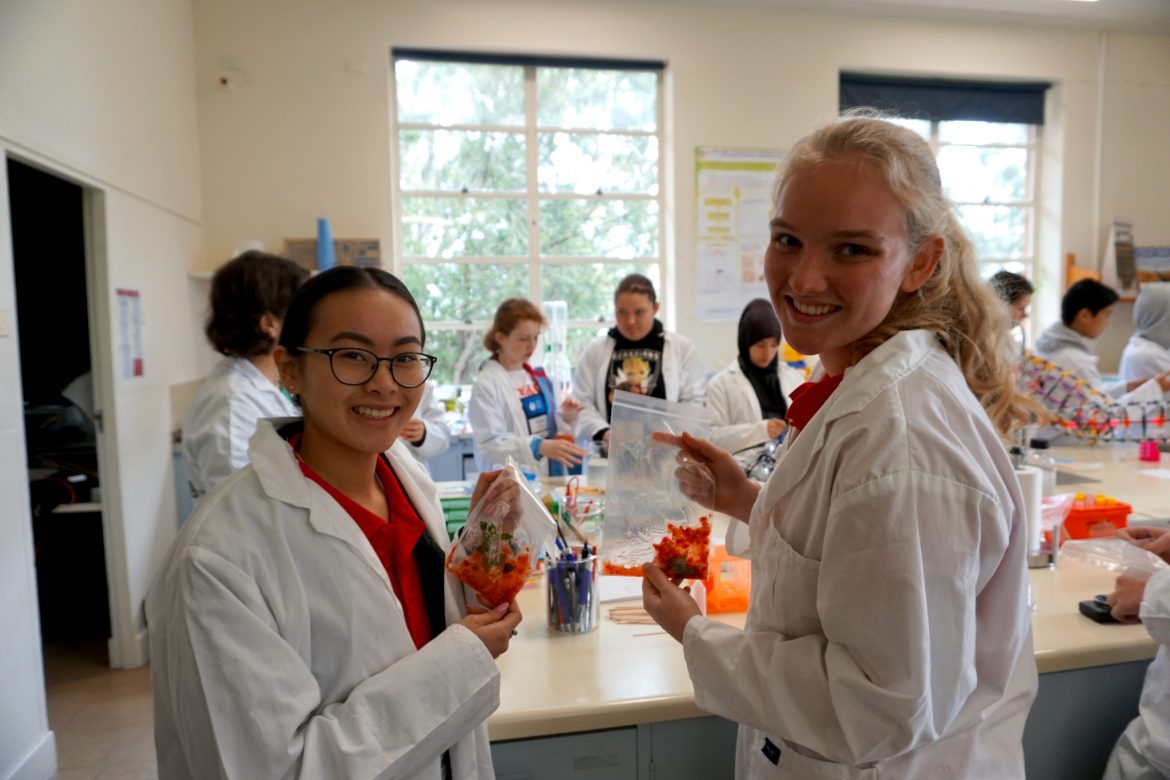 Lizzy and Carine enjoying a hands-on lab visit
"Hi I'm Lachie! I attended the NYSF in 2018 and I'm in my first year of a Bachelor of Science (Biology). For me, the most exciting things about being here at STEM Explorer are being able to share my passion for STEM with upcoming scientists and facilitating an environment for fun, engaging learning in which young students can thrive."
"Hey I'm Laura and I did NYSF in 2019! I'm currently completing year 12 and am planning on starting university next year. The STEM Explorer is important to me as I really enjoy helping younger people and it's really rewarding to see them grow."
A huge thank you to each of these stars for their hard work and commitment over the week that was, STEM Explorer 2019!