NYSF 2017 Session C's Science Dinner provided a great opportunity for participants to network, talking to researchers, partners and NYSF alumni. However the highlight of the evening was Professor Emma Johnston's address which inspired, motivated and encouraged the participants to pursue their dreams and passions. She also provided some useful advice for the audience, young and old alike, for when things don't seem to be working out.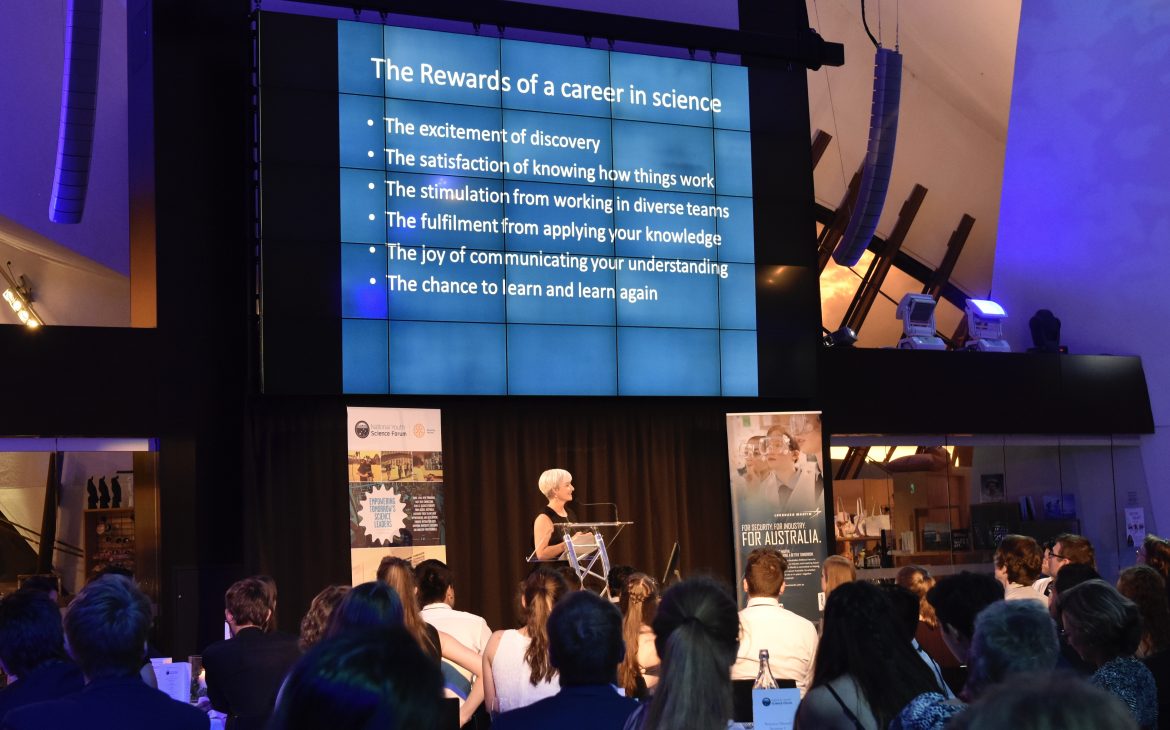 Professor Emma Johnston completed a Bachelor of Science and PhD studies at the University of Melbourne. She is the Pro-Vice Chancellor (Research) at UNSW Sydney, head of the Applied Marine and Estuarine Ecology Lab (AMEE), host of a BBC/Foxtel television series and Vice-President of Science and Technology Australia. Her research focuses on how human behaviour has impacts on marine ecosystems all over the world from the Great Barrier Reef to Antarctica.
Professor Johnston emphasised the opportunities that a career in science can bring and encouraged the participants to continue their scientific pursuits. "Science is the most rewarding career you can have," and offered some advice when choosing which path to follow. "You want a career that is changing, that is challenging and you are finding out what is happening all the time."
One theme evident throughout her address was the importance of being brave enough to challenge what is already accepted; only then will you be at "the frontier of scientific discovery."
Professor Johnston offered the audience some sage advice, applicable to both life and scientific research. "When you are challenged and doubt your abilities, it is important to have a role model, someone you can look up to, who is only a few years ahead of yourself. They will be an invaluable resource to guide you and inspire you." Professor Johnston said she had often struggled with a lack of self-confidence, stressing that everyone feels this way. But when things are difficult, she said, "... believe in the people who believe in you," and "... let their belief in you carry you forward." Professor Johnston emphasised that this was especially important for women in STEMM who are often under-represented and lack role models.
Thank you to Professor Johnston for your compelling advice to us all, your career has shown us the importance of working hard and challenging ourselves as well as making sure we surround ourselves with a diverse and supportive group of people.
For more information on Professor Johnston's work, click here.
Veronica O'Mara, NYSF 2017 Session C Communications Intern and NYSF 2014 alumna.