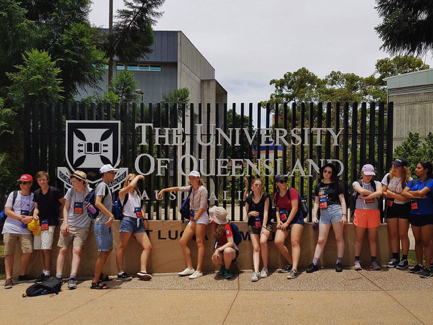 "My dream is to study neuroscience, so when I had the opportunity to visit the Queensland Brain institute, I was ecstatic."
The NYSF 2019 Year 12 Program is fast approaching. NYSF 2018 Alumna, Bronte Heselhurst looks back on her time at Session B in Brisbane.
The National Youth Science Forum (NYSF) inspires young Australians to value science, technology, engineering and maths (STEM) and its importance in their communities. I was privileged enough to attend NYSF 2018 Session B in January 2018 – the very first NYSF program to be held at the University of Queensland (UQ). It is almost impossible to explain how amazing it was to spend 12 days with 180 like-minded lovers of science, technology, engineering and maths (STEM). In such a short period of time, I created life-long friends and truly saw just how many opportunities there are in STEM.
While at the NYSF, I visited science sites and did tours with my interest group which focussed on sustainability, ecology and environmental issues. Many of the visits were hands-on, and as sustainability is a multi-disciplined area of research, I was exposed to a vast array of scientific concepts.
One of my favourite lab visits was at the Schenk Laboratory and UQ Algae Energy Farm. Before NYSF, I had not the slightest of idea of how or why algae were of any importance, except for feeding fish, and I was shocked to learn the Schenk Laboratory actually addresses global issues in food, water and energy security.
The UQ Algae Energy Farm is an off-the-grid demonstration module that uses in-house expertise gained in the laboratories to develop industrial scale, low-cost cultivation, harvesting and drying technologies tailored for microalgae production. We even got our hands a little dirty by playing with some algae!
My other favourite lab visit was to Moreton Bay Research Station. This full day of fieldwork immersed us into the life of marine scientists on North Stradbroke Island, where we learned about the marine environment on different habitats, and the animals and plants that live in these environments. We also learned about the effects of climate change on the marine environment and how each individual's actions have a domino effect in changing the world for better or for worse. We were challenged to think about our own impact and changes we could make to ensure sustainable future.
What I particularly loved about NYSF was the opportunity to learn about such a variety of STEM fields of research.
I was in awe when we walked into a lecture theatre for a videoconference with Dr Rolf Landua, a research physicist and Head of Education Group at CERN (European Organisation of Nuclear Research) in Geneva. CERN operates the world's largest and most complex scientific instruments to study the basic constituents of matter as well as exploring the fundamental laws of nature.
My dream is to study neuroscience, so when I had the opportunity to visit the Queensland Brain institute, I was ecstatic. The Queensland Brain Institute (QBI) is a leading institute focussed on two challenges of modern science: understanding brain function and the prevention and treatments of disorders of brain function. Throughout this lab visit we heard from Dr Lavinia Codd, who is looking for ways to stimulate the production of new neurons (neurogenesis), counteracting the loss that occurs during a stroke. We got to see the extraction of the hippocampus from mouse's brain as well as look at brain samples under a microscope.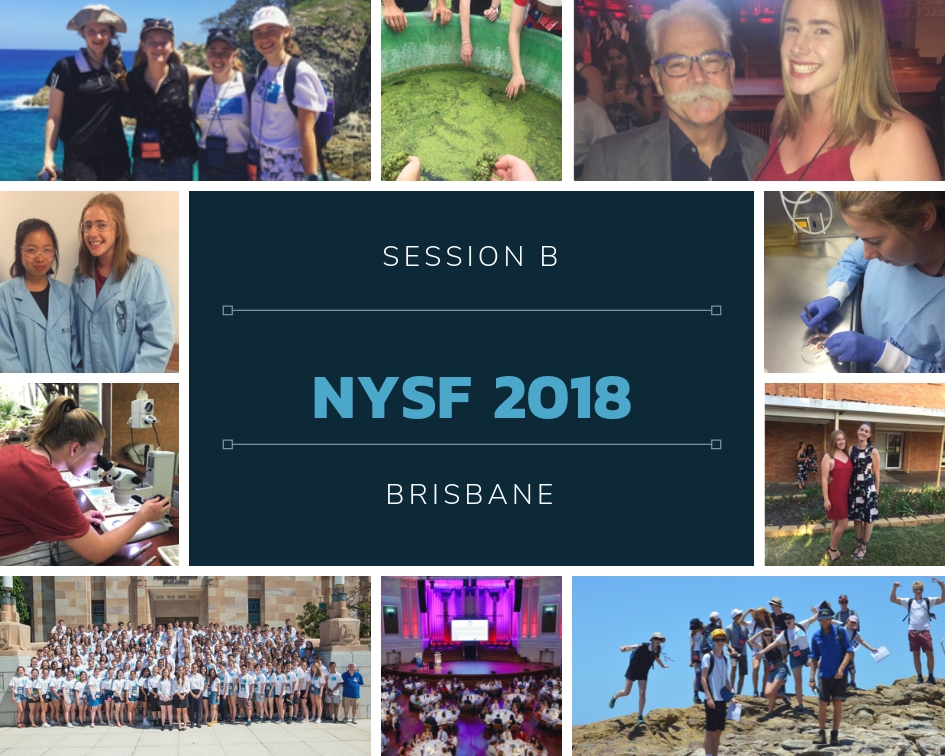 The most prestigious of nights at NYSF was the Science Dinner held at the Brisbane City Hall; where we heard from 2017 Australian of the Year, Emeritus Professor Alan Mackay-Sim (Griffith Institute for Drug Discovery (GRIDD)) - a leader in stem cell research and cell transplantation therapy. Prof. Mackay-Sim's research on the regeneration of the sense of smell in the nose lead to the first successful clinical trial of a therapy to treat human paraplegia. He explained how stem cells from patients noses are used to understand diseases such as Schizophrenia, Parkinson's Disease and Hereditary Spastic Paraplegia, with the aim of developing drug therapies.
This is only a small snapshot to how incredible and mind-opening NYSF was for me.
NYSF inspired me to pursue my dreams and filled me with excitement for the future of STEM.
Ultimately, I must thank the NYSF student staff and the Rotary Club of Canberra North for supporting me in this life changing experience.
- Bronte Heslehurst