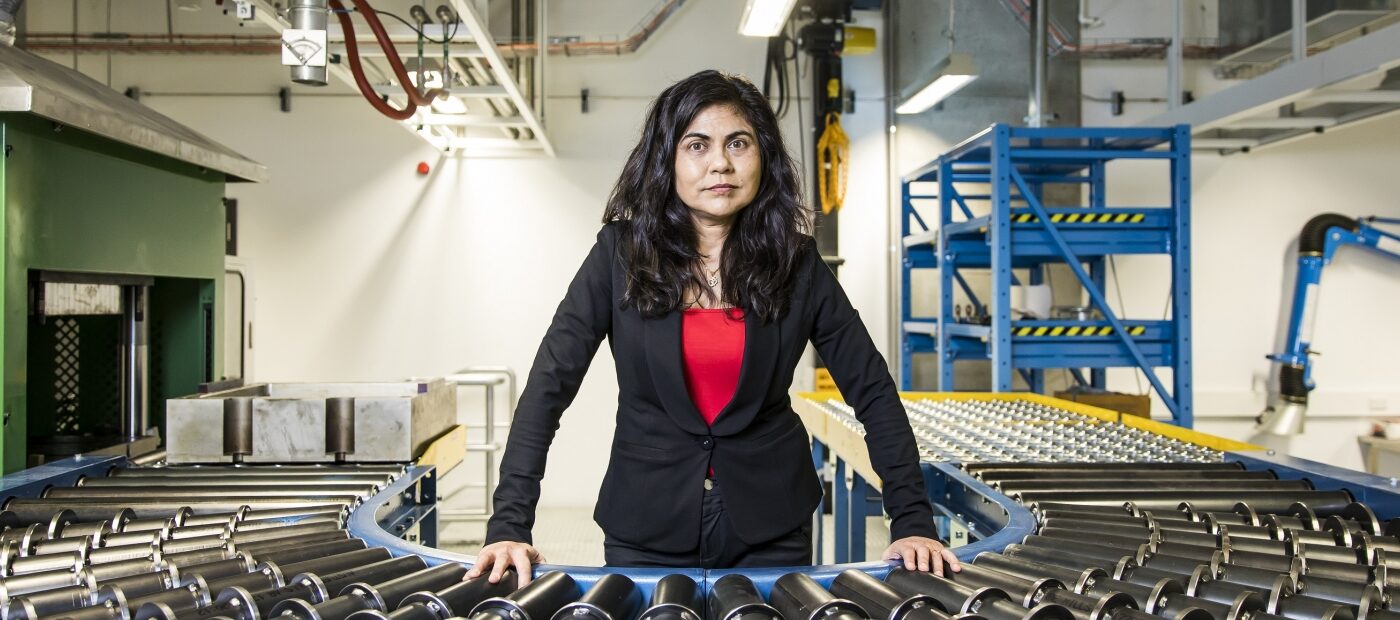 Did Professor Veena Sahajwalla inspire you to Reduce, Reuse, Recycle, and Reform?
As Professor Sahajwalla said in the session, "there's so much plastic around, but what do we do with it is the critical question."
Inspired by your questions during the session, Professor Sahajwalla would like to hear your ideas on how to reform waste in your local area!
Reforming Waste STEM Challenge
As an individual or in a group, your challenge is to research your local area(s) and see what problems they have with waste and recycling. This may be through contacting someone at your local council or doing research online. Then, use your knowledge of STEM (maybe something you've learned at NYSF) to propose a solution!
Waste cannot continue to be out of sight, out of mind. We only have one planet, so we need to feel in our hearts that this isn't the end of our responsibility. It's important to value our resources in waste. It's unfair to our planet that we use all of these resources and just throw them away!
To challenge the norm requires you to be bold and brave! Don't be afraid to ask these questions like 'where is this waste going?'
Submission:
Design a poster (A1 size max) that communicates a local supply of waste that could be turned into something reusable.
The poster should include:
A description of the problem
A proposed solution
Consider how to best design your poster with the audience in mind. You may have innovative ideas, but ideas need to capture the imagination to gain traction!
The poster must be submitted to the email address below by: 5pm AEDT Sunday 22 January (extended).
Judging:
The top 5 - 10 posters will be chosen by NYSF Staff (who span a huge range of STEM and community expertise) and will be sent to Professor Sahajwalla and her team for judging.
Prizes:
There will be prizes for the winning entries with the potential for follow-up and collaboration with the University of NSW Sydney's Centre for Sustainable Materials Research and Technology (SmaRT Centre).
Your submission will be uploaded to the NYSF website for your peers and the public to celebrate! If you'd prefer that your entry not be public, please let us know. We use first names only when putting your work online.
To submit an entry:
Email your entry to Catherine at communications@nysf.edu.au using the subject: Reforming Waste: [Your name(s)]
Include in the email:
Names of everyone in your group
Title of poster
Poster in PNG, JPEG or PDF
Frequently Asked Questions
Can I do this challenge in a group?

The Reforming Waste STEM Challenge is an individual or group activity. If you find that your local areas have the same problem, we invite you to collaborate to propose a solution together!
Will we get to present our poster and talk about it or is the poster itself judged purely?
Just the poster itself. Due to Professor Sahajwalla her team's time, they'll just be judging the poster, so it needs to stand on its own.
Is there a maximum dimension for the posters?
A1 is the maximum dimension for the poster.
Can we make multiple submissions?
Maximum of two submissions per person - though each poster can contain multiple issues and solutions.
Can it be digital & interactive?
Not interactive I'm afraid. Pretend you're going to print it out!
Is this just on plastic or any type of waste?
Any kind of waste! Think outside the [cardboard] box.
Can we use knowledge from other people not in NYSF?
You're welcome to use specialist knowledge you may have gleaned from elsewhere – after all, it's you! The spirit of the challenge is to hear about your ideas and your solutions. Make sure you understand what you put on the poster and that if you are using an idea that's already in action, you reference where the idea came from and then apply it to your local area. Just as we say that you can reach out to a local councilor to see what they do with reforming waste, so too could you reach out to an expert in your area and ask for their recommendations. Just be transparent with who helps you.
Is there a maximum number of group members?
No, but make sure you all contribute. If you feel like you have so many ideas that it's better to divide and conquer, give that a go!
Resources and inspiration
Engineers Australia Centenary Heroes – Veena Sahajwalla – E-Waste Microfactory (2019)
Centenary Heroes - Veena Sahajwalla - E-Waste Microfactory on Vimeo
ABC Australian Story – How Veena Sahajwalla's 'green ceramics' made from glass and clothes are revolutionising manufacturing (2021)
How Veena Sahajwalla's 'green ceramics' made from glass and clothes are revolutionising manufacturing - ABC News
Recycling revolutionary Veena Sahajwalla turns old clothes into kitchen tiles | Australian Story - YouTube
Engineer Veena Sahajwalla named 2022 NSW Australian of the Year (2021)
Engineer Veena Sahajwalla named 2022 NSW Australian of the Year - YouTube
Eureka Prize for Promoting Understanding of Science (2022)
Professor Veena Sahajwalla - Winner, 2022 Eureka Prize for Promoting Understanding of Science - YouTube
ATSE Clunies Ross Innovation Award (2022)
Professor Veena Sahajwalla FTSE FAA – Clunies Ross Innovation Award 2022 - YouTube
Photo credit: Anna Kucera from https://www.smart.unsw.edu.au/