We have lift off! After much anticipation, the 2022 NYSF Year 12 program is officially underway following an exceptional Opening Ceremony event.
625 participants from around Australia logged on to a new digital experience, joining the ranks of over 14,000 alumni who are scattered across the globe. After weeks of chatting online, the excited 2022 cohort are ready for 12 days of STEM discovery.
Following an introduction by Student Staff Leader Rahn Starvar, an inspiring Welcome to Country ceremony was delivered by Ngunawal Elder Mr Wally Bell, as a sign of respect for the traditional custodians of the lands on which our participants joined. The NYSF acknowledges traditional owners throughout Australia and pays respect to their scientific knowledge and continuing connection to land, sea and community.
Mr Bell had a simple but powerful message to the program participants.
"The spirits ask that you do two things while you are on Ngunawal Country; Respect this place that you are in, look after it, care for it, as we have done for thousands of years. Secondly, respect and be kind and courteous to other people that you meet while you are on Country. We've all come together today for a great occasion. Welcome."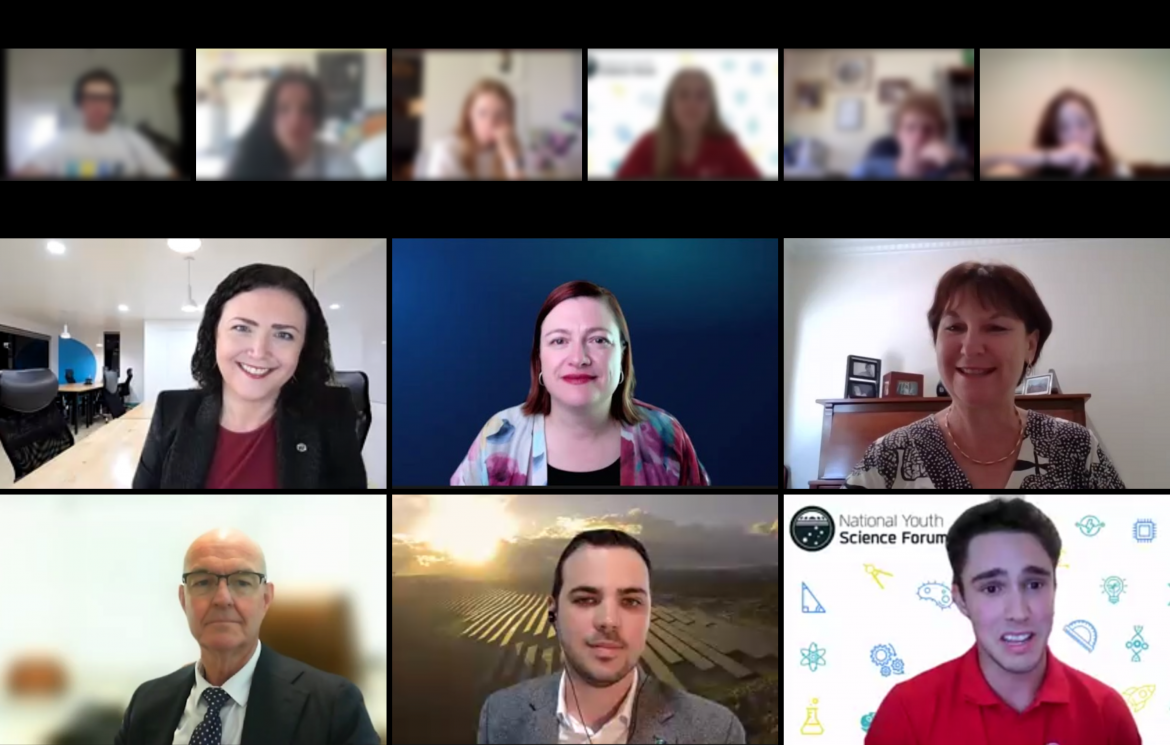 CEO of the NYSF, Dr Melanie Bagg, then welcomed the newest cohort of NYSFers to the community.
"In the last year, the COVID-19 pandemic has taught us about resilience and the ability to adapt, skills which are key to navigate the world's challenges. The NYSF has had to change and adapt so that we can continue to deliver a program of the highest calibre, and to do so safely. We're extremely proud to provide you with access to some of the brightest STEM minds and the most amazing facilities, both in Australia and internationally.
Today, we are breaking a record that has been held for 38 years, with more than 625 participants in the 2022 program, and over 190 STEM workshops, lectures, lab visits and site tours to look forward to."
Kerri Hartland, Chair of the NYSF Board, continued the welcome with some inspiring words for the student cohort.
"The Year 12 program is NYSF's flagship program and is a special and unique experience that will help shape your future. We look forward to your stories, insights, and valuable advice as you help to build the foundations for the next generation of STEM leaders."
Kerri was also proud to share that in 2022, 42% of program attendees are from regional and remote areas, and 64% are female (including any student who identifies as a woman, including cis, trans, non-binary and intersex persons).
The Hon Melissa Price MP, Minister for Science and Technology, sent a message of encouragement to participants, providing a glimpse into where a future in STEM can take you.
A fireside chat-style panel event followed, featuring an all-star cast:
Councilor Declan Clausen, Deputy Lord Mayor of Newcastle, NYSF 2010 alumnus (Host)
Professor Tanya Monro FAA FTSE FOSA FAIP GAICD, Chief Defence Scientist of Australia, NYSF 1990 alumna and Science Patron
Air Marshal (Retd) Warren McDonald AO CSC, Chief Executive of Lockheed Martin Australia
Kerri Hartland, Chair of the NYSF Board
Dr Melanie Bagg GAICD, CEO of the NYSF
Cr Clausen hosted an inspiring and engaging discussion where panelists shared their STEM journeys and key pieces advice they had for attendees. Participants also had the opportunity to ask questions to each of the panelists in a Q&A session.
Central themes included the importance of diversity and inclusivity in STEM; watching out for and avoiding 'Groupthink' where opinions are not challenged; following your passion and interests, being inquisitive, working hard and continually striving to learn; and staying open to new and alternative options that you may not have considered before!
Warren McDonald, Chief Executive of Lockheed Martin Australia, described the range of opportunities available to STEM graduates in industry, reflecting on examples from Lockheed Martin Australia (LMA).
"Inside LMA we have a variety of opportunities that require STEM skills, and we take people from graduates to apprenticeships. We have people working on the latest helicopters for the navy and the army...There is such a broad spectrum of exciting opportunities at LMA, all of which require the contributions of students like you, the youth of Australia."
Warren also imparted a key piece of advice to the student cohort.
"The harder you work, the luckier you get! I see life as a corridor - the more effort you put in, the more doors open up in that corridor, providing you with more opportunities to come in and out, and go in different directions."
Professor Monro revealed to the students that she was once in their shoes, as an alumna of the NYSF program in 1990, and she provided some unique insights into her STEM journey.
"The hallmark of my career has been one of always wanting to learn more. It was through the NYSF and seeing science outside of a school context that I realised I needed to keep my options open – if it wasn't for NYSF, I wouldn't have had the appetite to take the plunge into a new field when I went to university."
"Any day where I can get involved in some of the science we do is a good day. I've been the Chief Defence Scientist for three years now, and almost every day I'm still discovering something new that I didn't know that we did, and that is a wonderful thing."
Professor Monro emphasised the importance of science in society.
"I think that we have to encourage anyone who has potential and interest in STEM, not because we want you all to be a scientist doing research in a lab, but because we need everyone from all walks of life to have the ability to look at data and evidence and to ask good questions and make good decisions on that evidence. And that is the core STEM skillset."
The value of diversity in science was a sentiment that echoed across all the panelists, and Dr Bagg expanded on this when asked a question regarding the outlook for the LGBTIQA+ community in STEM careers.
"We need diversity in all its different forms to find solutions to the most complex problems for society. We can't solve issues for our community unless our STEM teams are representative of all the people within that community. At NYSF that is what we strive to do, to be as diverse and inclusive as possible."
Cr Clausen also reflected glowingly on his time as a NYSF alumnus in 2010.
"I can honestly say that NYSF was one of the most formative opportunities within my career, and I'm so exceptionally envious of each and every one of you, that over the next few weeks gets to talk science with some of the world's greatest minds."
The Opening Event provided the students with a taste for what's to come across the next 12 days of the 2022 NYSF Year 12 Program, encouraging them to keep their minds open as they engage with and learn from a range of Australian STEM leaders.
A huge thank you to all the panelists and speakers for sharing their wisdom and insights with the young student cohort.
The 2022 NYSF Year 12 Program Opening Event was proudly supported by Lockheed Martin Australia.