Congratulations on being selected for the January 2021 NYSF Year 12 Program!
From now and until the end of December we will be regularly updating these FAQs and sending you updates on the Program as it develops.
Now that you have been officially selected, we will be starting to communicate with you more so please look out for our emails. Remember, all formal NYSF information comes through email and not social media.
If you have any questions, please email us at Programs@nysf.edu.au.
We look forward to seeing you in January.
---
Q: WHAT ARE THE DATES OF THE 2021 PROGRAM?
A: The 2021 program will run on weekdays across 14 days from Tuesday 5th January to Friday 22nd January.
Q: WHAT IS THE FORMAT OF THE 2021 PROGRAM?
A: The 2021 NYSF Year 12 Program features a core digital program, offering a diverse range of keynote speakers, lectures, skills workshops, debates, expos, and social activities.
Additionally, we are working closely with STEM organisations around Australia to deliver COVID-safe, local in-person experiences where possible. These visits will enable students to meet other participants while enjoying interactive STEM activities and will be mirrored by online events for students unable to participate in person.
In-person events will have strict capacity limits and in some locations may not be possible. They are highly subject to change due to COVID-19 and should be viewed as an added bonus to our vibrant digital event.
In the event that there are no in-person visits located near you, or your local visit is fully booked, you will be able to participate in a live digital program that has been specially curated to deliver an interactive STEM experience.
Q: HOW LONG WILL THE DAYS AND INDIVIDUAL SESSIONS RUN FOR?
A: The day lengths vary, but in general will commence around 11am AEDT/8am WST and run through to around 4pm/1pm. Online sessions will range from 3.5 hours to 5 hours including breaks, In-person STEM visits will range from 3 to 7 hours including breaks. Evening activities will be additional to these timings.
Q: CAN I TAILOR THE PROGRAM TO MY INTERESTS?
A: You will be allocated into a STEM stream for the duration of the Program. This stream is based on the preference you advised us of in your application. Within that stream, you can attend the sessions you want. For events such as Specialist Lectures, students will have a selection across a range of STEM areas to attend. STEM visits will be dependent on the specialisations at our local hubs and availability. We will send you more details over the coming weeks. All of our sessions will be recorded so you can listen back if you missed something or want to tune into additional content.
Q: HOW WILL I ENGAGE WITH OTHER STUDENTS?
A: Creating life-long connections with participants who share similar STEM interests is a key part of the NYSF experience. To encourage these connections, we're hosting virtual Coffee-Meets, continuing the NYSF buddy tradition, and forming interest groups where students will get to spend time with fellow NYSFers and Student Staff volunteers with similar interests. A special Facebook group and an instant messaging session app is another way we are supporting NYSFers to chat and form close connections all around Australia. There are a whole raft of fun activities, riddles, competitions and puzzles to provide brain breaks throughout the program, and we're sure the students will all be close NYSF friends by the end of January!
Q: CAN WE HAVE A SNEAK PEAK OF THE PROGRAM?
A: Of course!
*Program is subject to change with more sessions to be revealed soon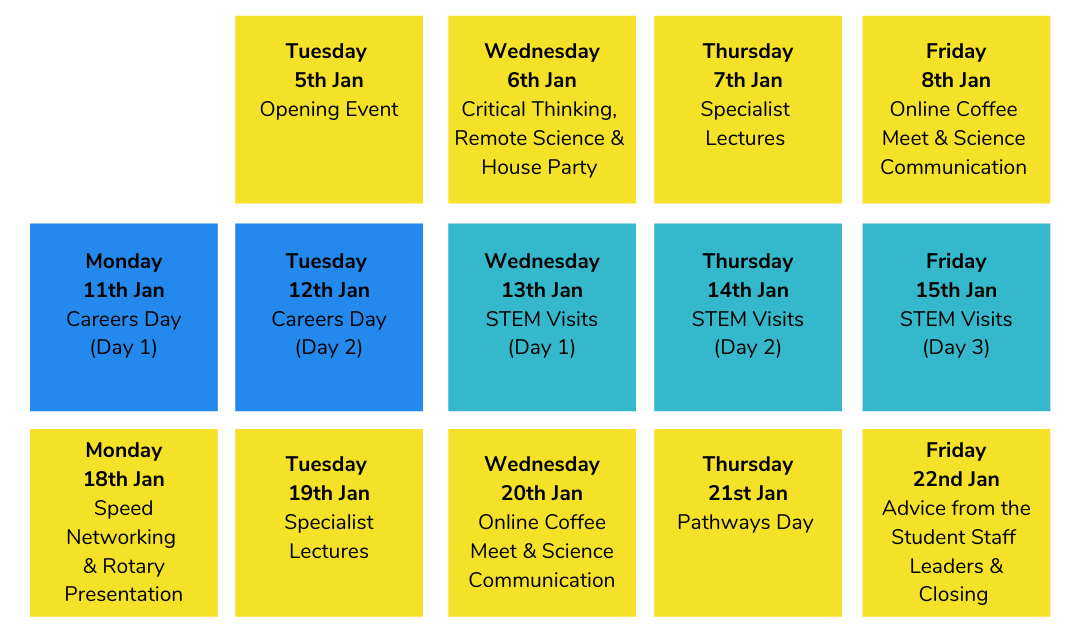 Q: HOW OFTEN AND HOW WILL I RECEIVE UPDATES FROM THE NYSF?
A: You will hear from the NYSF team every week or two via email. These updates will keep you updated with what's in store for your 2021 program. Participants will also be invited to join a NYSF facilitated participant Facebook group where updates will also be posted.
Q: WHEN DO I ATTEND A ROTARY ORIENTATION?
A: These are organised by Rotary so your invite will come via your Rotary club or District Chair. They may be held online or in-person.
Q: WHAT IS THE COST OF THE 2021 PROGRAM?
A: $1,900
Q: WHAT HAPPENS NEXT? WHEN WILL I RECEIVE MY INVOICE?
A: You will not be invoiced until after you receive an email with your formal offer to attend the Program, which will prompt you to provide further information for your registration. You and your parent/guardian will then need to sign your Program Agreement, after which we will send your parent/guardian an invoice for your program fee. Once we receive payment of your fee, your place in the program is confirmed.
Q: IF I HAVE MORE QUESTIONS WHO DO I CONTACT?
A: You can contact the NYSF programs team at programs@nysf.edu.au for any queries you have concerning the 2021 Year 12 Program.