Since its launch in May, the NYSF has hosted 30 weekly webinars to provide NYSF Alumni with accessible professional development opportunities.
Exposure to cutting-edge science and Australia's top scientists does not stop at the end of the NYSF Year 12 Program. In 2020 the NYSF launched its pilot NYSF Connect Webinar Series that enabled our 12,000+ alumni community from around Australia and indeed the world, access to information on cutting-edge science and careers.
The Webinar Series provided NYSF Alumni across all career stages accessible professional development opportunities. Held on Tuesday evenings, the webinars included live Q&As and covered a range of topics around STEM & Research, Studies & Careers, and Alumni Stories.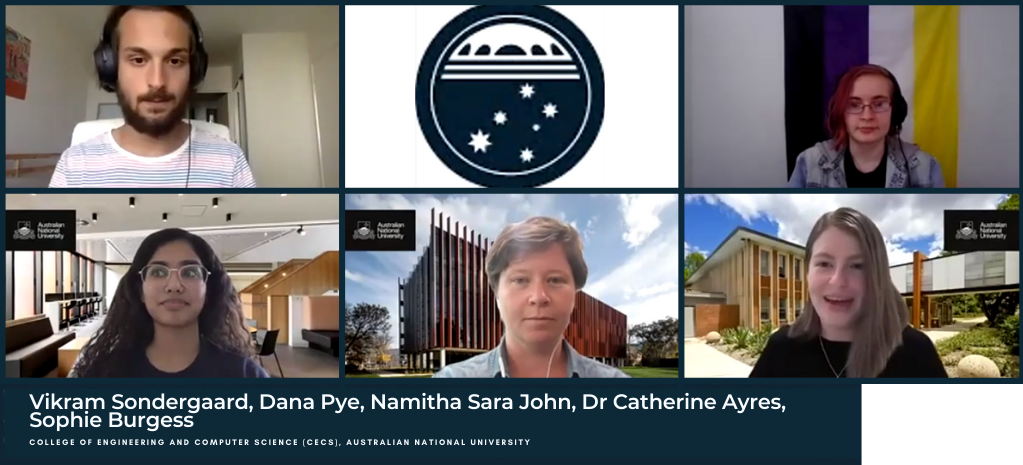 Since its launch in May, the NYSF has hosted 30 weekly webinars with guests specialising in defence, science communication, artificial intelligence, meteorology, astrophysics, veterinary science, climate science, medicine, product engineering, and many more! We have featured exclusive interviews with leaders of prestigious STEM organisations such as Australian Bureau of Meteorology's CEO and Director Dr Andrew Johnson FTSE FAICD, CSIRO's Chief Scientist Dr Cathy Foley AO PSM FAA FTSE, ABC Radio National broadcaster Robyn Williams AO, CEO of the Australian Nuclear Science and Technology Organisation Dr Adi Paterson, Australia's Chief Scientist Alan Finkel AO FAA FTSE, Australia's Chief Defence Scientist Professor Tanya Monro FAA FTSE FOSA FAIP GAICD, and Vice President International at Lockheed Martin Space Rod Drury CSC.
Since our last update, alumni have enjoyed exclusive webinars with an incredible array of guests, including: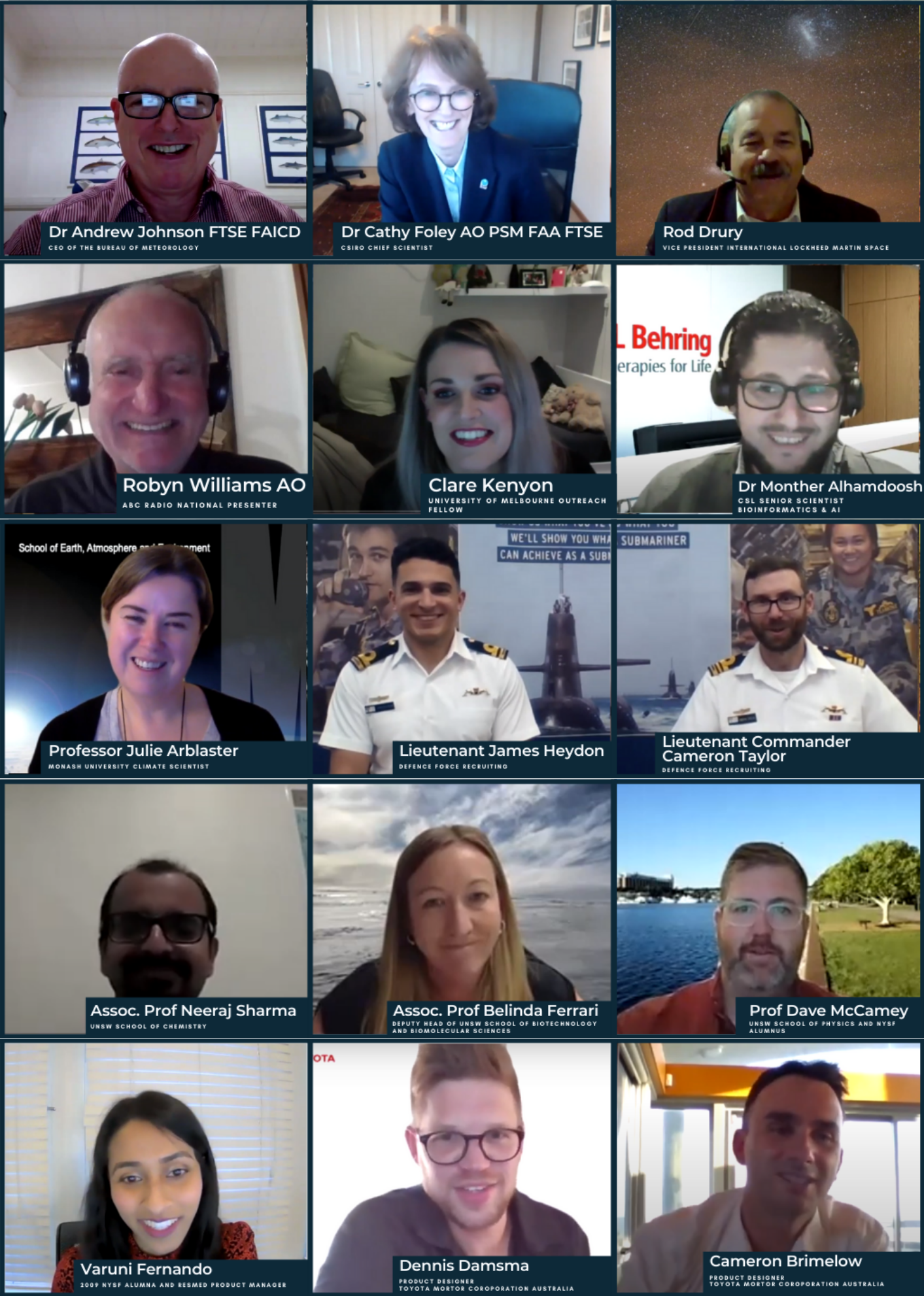 The popular live Q&A format allows alumni to engage directly with the speaker, having their burning questions answered in real-time. Here are some of the great questions asked throughout the series.
Q: What is on the horizon in the scientific community that excites you?
Dr Cathy Foley: "Oh there's so many! Room temperature superconductivity was realised for the first time, which means we could be able to have low energy transport, power generation would be simpler, and transmission would be without loss. It would revolutionise our world."
Q: What kind of technology is being developed to prepare for natural disasters?
Dr Andrew Johnson: "A huge amount of work on more advanced forecast systems so we can predict dangerous fire weather earlier. Much finer spatial and temporal resolution to support emergency management decisions. Fires create their own weather, so there is a lot of science needed to lift our game and have more skill in predicting where that really severe localised bushfire weather is."
Q: How do you think social issues like diversity and inclusion intersect with STEM?
Dr Catherine Ayres: "The tendency to think of humanities and social sciences as separate from STEM is mistaken because you know we're all people who live with various backgrounds and accessibilities and things in the same world. If we have a student body that is homogenous building technology for the future then we have a future that is beneficial for that homogenous group."
As the Webinar Series was the first of its kind for the NYSF, we are incredibly pleased with how well received they were by alumni and our supporters. Over 1000 viewers tuned in to learn about the careers of leading STEM professionals across a diverse range of STEM fields and professions. Here is just a handful of the feedback we received:
"The information about quantum computers was very interesting, and also the information about superconductors, their uses, and how they are created. I also liked hearing about the kind of work done by the CSIRO. I really appreciated that Dr Foley took the time to explain things in detail."
"It's good to hear how others are inspired by their work in science and how Dr Monther Alhamdoosh was inspired."
"Listening to Robyn Williams was amazing, just all his stories and advice. I love that I can now attend more of these sorts of presentations via the internet."
"I loved the data and information on climate change. So relevant to all of us, and such a topic for debate in the media. Amazing to have access to a climate scientist like Dr Julie Arblaster!"
"Personally, I found the topic and guest speakers of tonight's webinar, Toyota, very very interesting. I have a passion for cars and have always been interested in motorsport, cars and designing new ones."
Thank you to all NYSF Partners and guests for volunteering their Tuesday evenings to provide these valuable opportunities to our alumni. We would also like to thank all NYSF Alumni who embraced the opportunity to host the webinars and improve their interview skills. We are proud to provide alumni with such opportunities.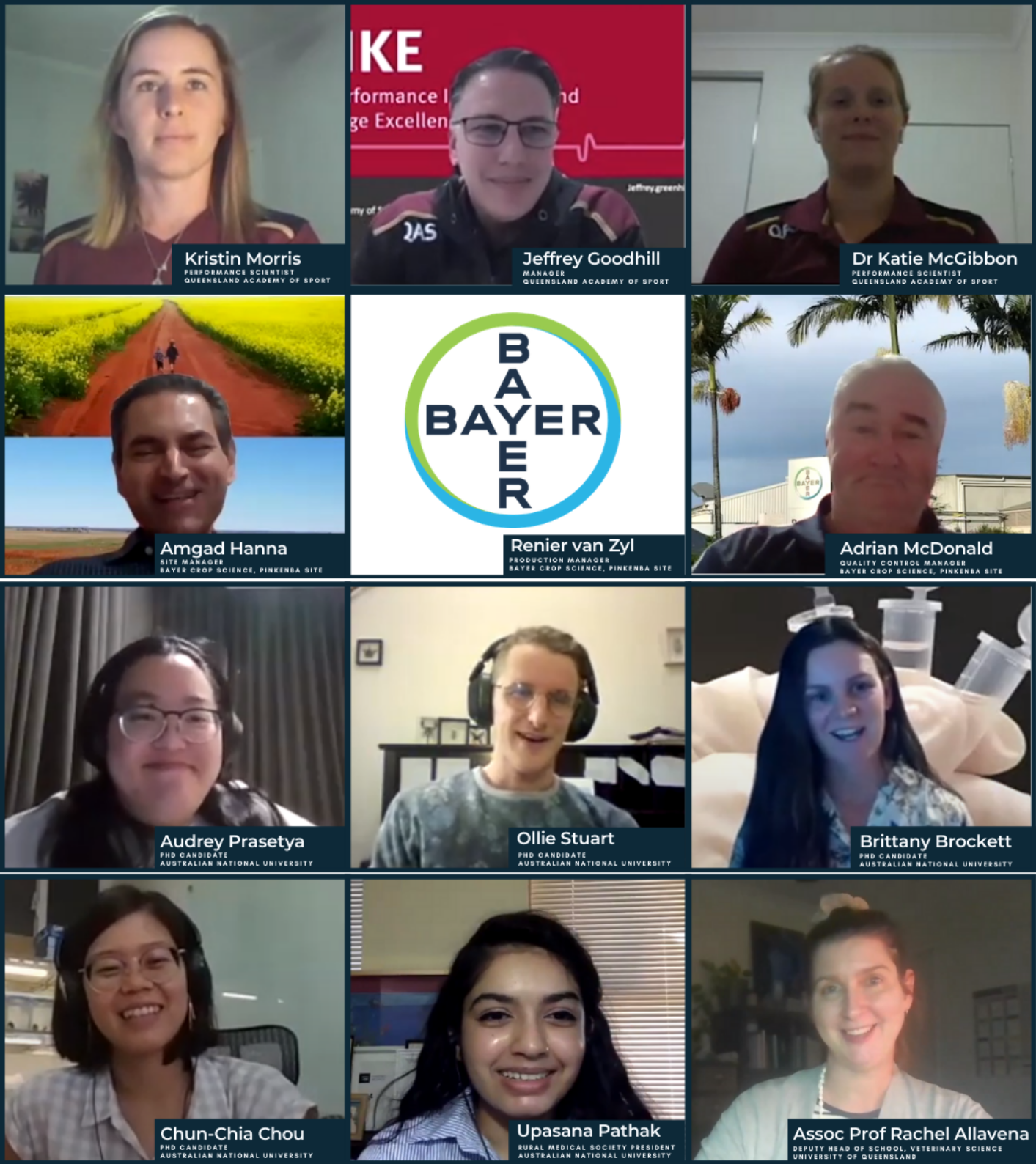 We are already planning our NYSF Connect Webinar Series for 2021 with more prestigious guests and STEM experts to come!