Since its launch in May, the NYSF has hosted 30 weekly webinars to provide NYSF Alumni with accessible professional development opportunities.
Exposure to cutting-edge science and the opportunity to meet Australia's top scientists does not stop with the end of the NYSF Year 12 Program, indeed it is a life-long bonus to becoming an NYSFer. In 2020 we launched our inaugural NYSF Connect Webinar Series for our 12,000+ alumni community around Australia and indeed the world.
The Webinar Series provided NYSF Alumni at all career stages with accessible professional development opportunities. Held on Tuesday evenings, the webinars included live Q&As and covered a range of topics across three themes: STEM & Research, Studies & Careers, and Alumni Stories.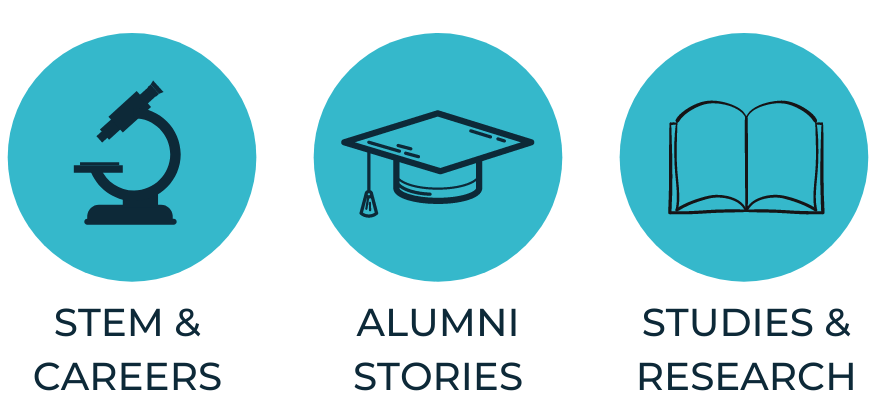 Since May, we have hosted over 30 weekly webinars with guests specialising in science communication, artificial intelligence, careers in space, meteorology, astrophysics, veterinary science, defence science, climate science, medicine, product engineering, and more!
As the Webinar Series was the first of its kind for the NYSF, we are incredibly pleased at how well they have been received. Over 1000 viewers have tuned in to learn about the careers of Australia's leading STEM professionals across a diverse range of fields and professions.
Since our last update, alumni have enjoyed exclusive webinars with:
Australian National University College of Engineering and Computer Science diversity in STEM panel
Lockheed Martin Space, Vice President International, Rod Drury
ABC Radio National presenter and 'The Science Show' host, Robyn Williams AO
Australian Bureau of Meteorology Chief Executive Officer and Director of Meteorology, Dr Andrew Johnson FTSE FAICD
CSIRO's Chief Scientist and Australia's future Chief Scientist, Dr Cathy Foley AO PSM FAA FTSE
CSL Limited Senior Scientist in Bioinformatics & AI, Dr Monther Alhamdoosh
University of Queensland Deputy Head of School, Veterinary Science, Associate Professor Rachel Allavena
UNSW panel discussion with UNSW Professors
University of Melbourne Outreach Fellow and Astrophysicist, Clare Kenyon
Monash University Climate Scientist, Professor Julie Arblaster
ResMed engineer and 2009 NYSF Alumna, Varuni Fernando
Bayer Crop Science panel
ANU Research School of Biology PhD student panel
Defence Force Recruiting's Lieutenant Commander Cameron Taylor and Lieutenant James Heydon
Toyota Motor Corporation Australia Product Design Engineers, Cameron Brimelow and Dennis Damsma
ANU Rural Medical Society President, Upasana Pathak
Queensland Academy of Sport panel discussion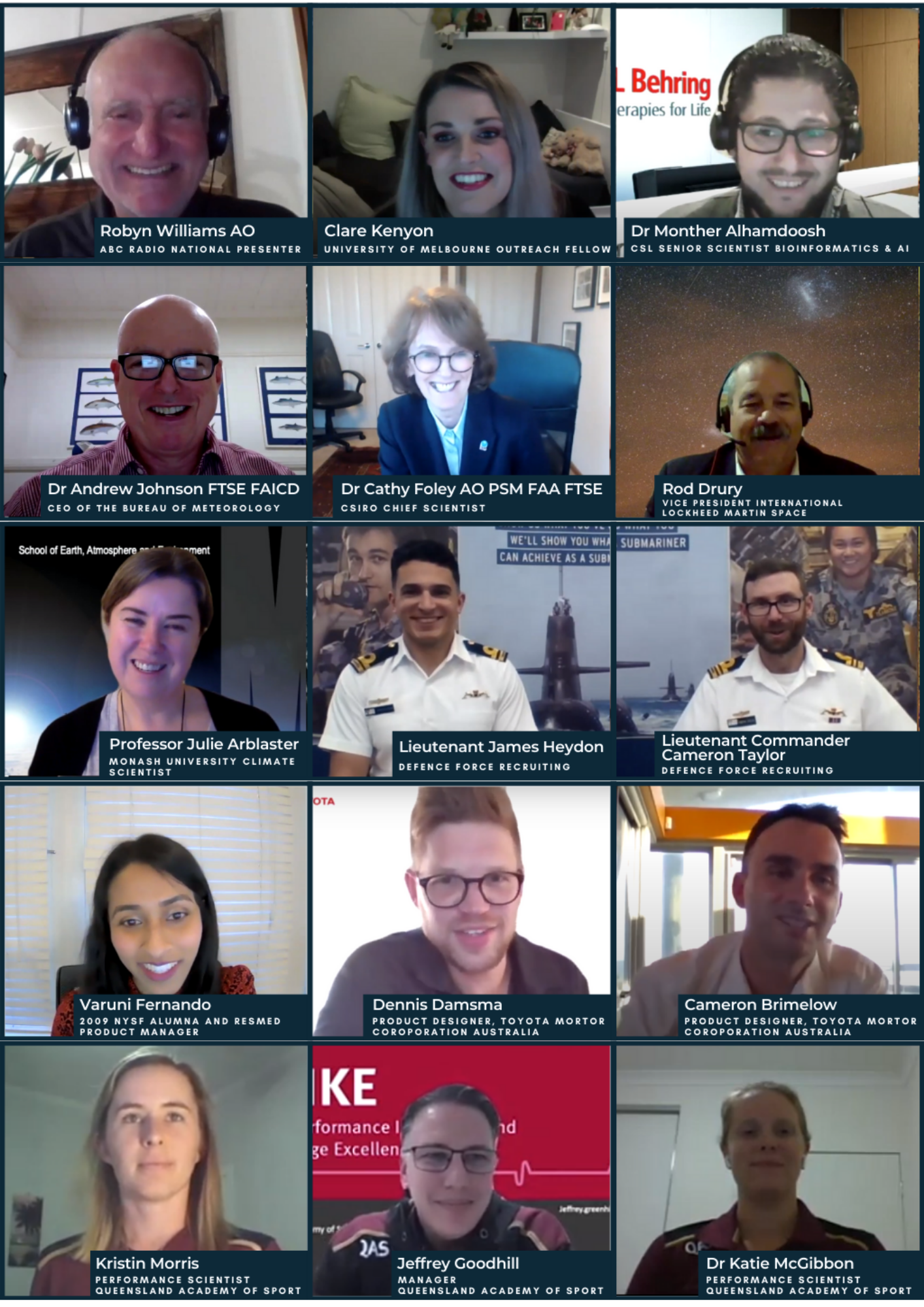 Here is just a handful of feedback we received:
"The information about quantum computers was very interesting, and also the information about superconductors, their uses, and how they are created. I also liked hearing about the kind of work done by the CSIRO. I really appreciated that Dr Foley took the time to explain things in detail."
"It's good to hear how others are inspired by their work in science and how Dr Monther Alhamdoosh was inspired."
"Listening to Robyn Williams was amazing, just all his stories and advice. I love that I can now attend more of these sorts of presentations via the internet."
"I loved the data and information on climate change. So relevant to all of us, and such a topic for debate in the media. Amazing to have access to a climate scientist like Dr Julie Arblaster!"
"Personally, I found the topic and guest speakers of tonight's webinar, Toyota, very very interesting. I have a passion for cars and have always been interested in motorsport, cars and designing new ones."
Thank you to all NYSF Partners and guests for volunteering their Tuesday evenings to provide these valuable opportunities to our alumni. We would also like to thank all NYSF Alumni who embraced the opportunity to host the webinars and improve their interview skills. We are proud to provide alumni with such opportunities.
We are already planning our NYSF Connect Webinar Series for 2021 with more prestigious guests and STEM experts to come!