**Please note this position is for NYSF Alumni ONLY**
Applications Now Open
Applications are now open for the Communications Intern position at the NYSF 2020 Year 12 Program next January.
Are you an Alumni of the NYSF Year 12 Program
Are you interested in Science Communications?
Would you value an opportunity to develop your professional communications skills?
Do you have a passion for photography, writing, social media and/or video editing?
This position is ideal for students who have completed at least 1-2 years of university, or those who are in the early stages of their career and are interested in working in science communications.
About
The NYSF is seeking four Communications Interns, two per session, to work at the NYSF Year 12 Program this coming January in 2020. The four interns will work in teams of two for the 12 days of either Session B or Session C.
Tasks and activities will include attending lab visits and events throughout the program and preparing content on those events in the form of text, photographs, social media and potentially video. The preparation of content should involve background research to ensure accuracy as well as interviews with participants and speakers (as appropriate).
The Communications Intern role will provide the applicant with an opportunity to practice and develop their skills in the area of science and general communications, and also helps to support the NYSF through the creation of further promotional content.
To be successful in this role, you will need to have:
Proven strong written and verbal communication skills
The ability to work to a deadline, producing quality content
The ability to work independently, and as part of a team
The ability to multi-task in a fast-paced environment
While this is a volunteer role, you will be offered a small stipend on arrival. The NYSF will book and pay for your travel, the majority of meals, and your accommodation while at the program. You will stay on campus either at ANU or UQ in the same residential college as the students.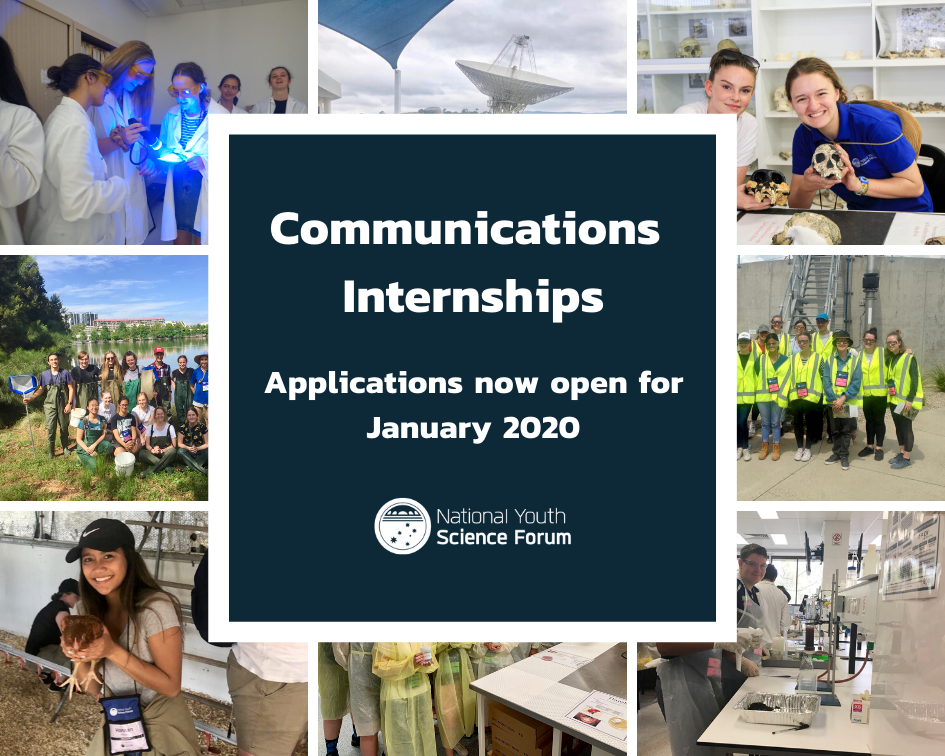 For any questions please email or phone the NYSF External Relations team on 02 6125 8493.
Want to know more?
You can read about the experiences of the 2017 Comms interns in this article.
"Writing about the NYSF experience was an amazing opportunity and I'd definitely recommend it to any NYSF alumni interested in science communication and science education. Most of all, attending NYSF 2017 as a communications intern confirmed my confidence in the future of Australian science. To see 200 young scientists build lifelong friendships reminded me of my own session, and I realised that although the names and faces had changed, the students'attitudes and passion for science had remained just as strong." Daniel Lawson, 2017 Communications Intern Session A
How to apply
You will need to complete the following questions in the application and it is advised that you pre-prepare your answers. A current CV will also need to be uploaded.
Please provide a short explanation of your written and verbal communication skills/experience?
Please provide 2-3 examples that illustrate your ability to work to a deadline, producing a quality product/outcome.
Please provide evidence of how you can work both independently and as part of a team, to achieve specified outcomes.
Please provide evidence illustrating times when you had to multi-task in a fast-paced environment.
Applications are now open through Survey Monkey. Click here to apply Applications will close on the 17th of November 2019.
*Please note this opportunity it for NYSF alumni only.